Begin With A Solid Foundation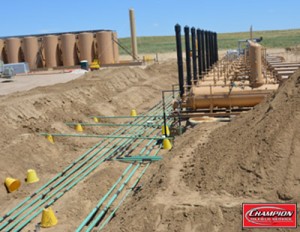 At Champion Oilfield Service, Well Site Construction is the heart of our business. Champion has been building wellsites for over 10 years in Eastern Colorado.
We have the experience and resources to safely and efficiently complete your project. Using reduced disturbance construction techniques we work to lessen the impact on the environment.
Well Site Construction Services:
Land Clearing/Leveling/Grading
Excavation and Backfill
Site Reclamation
Access Road
Pad Construction
Excavation
Tank Battery Installation
Pipe Fitting/Welding
Trenching
Erosion Control
Compressor Stations
Welding – Pass Rates 99.8%
Oil Field
Construction
Ranch and Agricultural Needs
Our welders are trained in pipe welding, fabrication, X-ray, and high pressure and general oilfield applications.
Pipeline Construction:
Main Line Construction
Meter Stations
Pipeline Commissioning and De-Commissioning
Pipeline Take Up and Removal
ROW Restoration and Reclamation
Pipeline Encroachments
Flowline Gathering Services
Dust Control
We will keep the dust down and your neighbors happy!
Champion Oilfield Service Well Site Construction